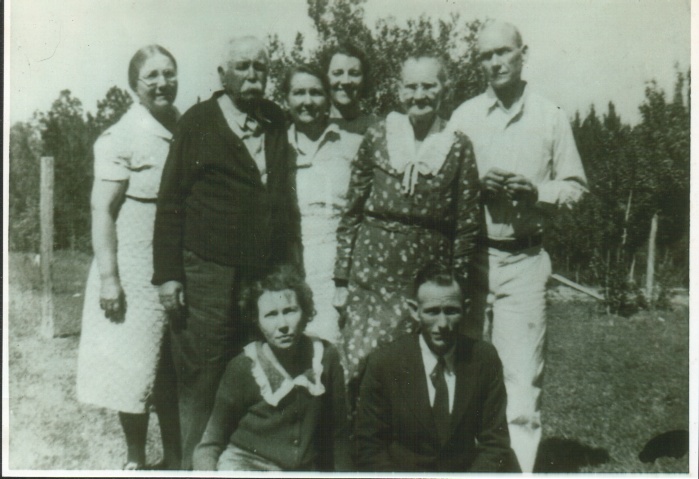 Standing L-R: Saleta, RANKIN, Alma, Kate, BELL, Loren Bond.Seated L-R: Ila, Emmett Bond.
RANKIN CLAIBORNE BOND 3,(CLAIBORNE 2, ELISHA 1),was born 3 July 1861. d. Jan 1 1942
was born July 03, 1861, and died January 01, 1942 Bur in Sumrall Cem, Stone County, MS. He married MEHITABELL (BELL) PAULINE HATTEN April 11, 1888. She was born October 27, 1863, and died April 22, 1945 i Bur in Sumrall Cem, Stone County, MS.
Children of RANKIN CLAIBORN BOND and MEHITABELL (BELL) HATTEN,

i. LORAN C. BOND, b. 1889. m. ALICE EDWARDS.

ii. SALETA ELVIRA BOND, b. Dec 10, 1890, m. HORACE BRELAND.

iii. ALMA MAE BOND, b. 1894. m. WILLIAM HULON CLAUNCH.

iv. CLARENCE BOND b. 1897 Died very young.

v. KATY FLORENCE BOND b. 24 Jan 1899. J C "JACK" LAMEY.

vi. EMMETT RANKIN BOND b. 24 Dec 1901, m. EDITH BRELAND.

vii. ILA BELL BOND b. 3 April 1905, m. MONROE ERNEST JORDAN
All Rights Reserved.