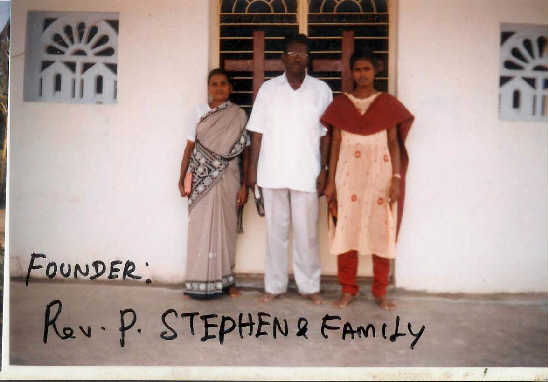 All India Village Christian Churches REGD NO. 70/2003
FOUNDER;REV.P.STEPHEN PASTOR. A.J. AMOSE MOUTHI
ABOUT US:
GREETINGS TO YOU IN THE NAME OF OUR LORD JESUS CHRIST .WE DOING THE LORD'S MINISTRY IN INDIA FROM VILLAGES. SO, WE SHARE ABOUT OUR MINISTRY BURDENS & VISIONS & NEEDS TO YOU. OUR LORD JESUS CHRIST CAMMAND US IN (MARK 16:15) , "GO IN TO ALL THE WORLD & PREACH THE GOSPEL TO EVERY CREATURE" ACCORDING TO THIS CAMMANMENT DECIPLES ST.THOMAS CAME TO INDIA PREACHED THE GOSPEL.LAST 2000 YEARS GOSPEL HAS BEEN PREACHED TO INDIA BUT MANY PEOPLES HAVE NOT HEARD THE NAME OF JESUS ONCE IN THEIR LIFE. BECAUSE IN INDIA THERE ARE 120 MILLION PEOPLE LIVING & MORE THAN 1652 LANGUAGES ARE SPOKEN IN 29 STATES. AND MOST OF THEM ARE LIVING IN 7,00,000 VILLAGES & TRIBES GRUPS & MOST OF THEM ARE UNEDUCATED. EVERY STATE HAS DIFFERENT LANGUAGES,CULTURE ,CLIMATE, FOOD & DRESS FROM ANOTHER STATE. THEN HOW TO FULFILL THE CAMMANMENT OF LORD JESUS CHRIST IN INDIA? OUR INDIA HAS 120 MILLION PEOPLE, 29 STATES & 6 UNIONS ,1652 LANGUAGES,593 DISTRICTS , 7 LAKES AND MANY VILLAGES.
OUR VISIONS & PLANS :
1. TO PREACH THE GOSPEL IN UNREACHED VILLAGES.
2. TO BUILD A CHURCH WHERE THERE IS NO CHURCH
3. ORPHANAGE (MERCY CHILDREN'S HOME) MINISTRY
4. THE MINISTRY FOR HELPING WIDOWS &HANDICAPPED
5. THE MINISTRY TO HELP AGED &POOR & SOCIAL WORKS
6. TO ENCOURAGE FOR VILLAGE (BRANCH)PASTOR'S & HELPING THEIR MINISTRY,FAMILY
7. VIDEO –EVANGELISM FOR UNREACHED PEOPLE & BIBLE STUDY
8. TO CONDUCT –VILLAGE GOSPEL CRUSADE 3 DAYS.
9. OUR BURDENS IS TO HELP GET MEDICAL FACILITIES FOR SICKNESS PEOPLES.
10. TO HELP THE POOR CHILDREN'S IN VILLAGE SIN CONTINUE EDUCATION OF THEIR STUDIES.
11. YOUTH,SISTERS,WIDOWS MINISTRY &TRACTS MINISTRY
12. CHILDREN'S MINSTRY (CHILDREN'S BLESSING FESTIVAL)
13. VIDEO EVANGELISM & BIBLE STUDY FOR UNEDUCATED BELIEVERS IN VILLAGE
14. FASTING,NIGHT PRAYERS FOR NATIONS & WORSHIP CAMP
15. VILLAGE PASTOR'S WELFARE MEETINGS
16. HELP TO VILLAGE CHURCH BUILDING WORKS
OUR NEEDS:
1. A VAN & GENERATER
2. THREE PROJECTOR SERVER
3. MSUIC INSTRUMENTS"CASIO,GUITAR,PAD,MIC'S)
4. GOSPEL BOOKS ,SPIRITUAL & TRACTS IN A PRINTER MANNER.
5. NEED PART OF LANDS TO BUILT THE CHURCH & OFFICE
6. NEED OWN PLACE & OWN CHURCHS IN MANY VILLAGES
7. VEHICLE FOR THE MINISTRY( TWO WHEELER BIKE )
8. OFFICE & ALL THE NECESSARY IMPLEMENTS.
9. SUPPORTING HANDS BY PRAYER & FINACIAL HELP.
OUR MINISTRY DETAILS
1.(Is 61:1-4,Mk 16:15,lk 8:1,Mat 11:5)
Our main aim is to preach the gospel of our heavenly kingdom. Owing to old customs & insufficient transport facilities it is quite impossible to spread the gospel in those cultured villages. The kingdom of heaven suffereth violence ,and the violent take it by force (mat 11:12)we are preaching &trying in many ways to spread the gospel among the people. we are training the believers in the gospel service. For the service of God's vision to be fulfilled we need A VAN &GENERATOR. We render your prayer & help for the same .
This is the revival time & the Holy Spirit working Swiftly. When we along with Him, our India will come to know the Living God very soon. Please you can pray & give help for this plan.
2.Church Planting (Mk 16:15,Rom 15:21)
We established the main church in Vembakkam village. In Vembakkam in & around having 64 villages. now some of people coming in our church in & around 10 villages. All these villages is insufficient transport facilities between rural villages. For this reason many people difficult for coming to the church regularly. Because of the reason we running the branch churching 4 villages. We need the permanent places to build the churches. We need your help to build the churches for these villages.
We are planning to conduct many gospel crusade meetings in other villages in the year & future. we praying for in our God. This villages all around the gospel, this is my hear desire. For this reason we are in need of Music instruments &good P.A. Systems. Please pray for the needs to be met by our great God. You can help to these needs. THIS YEAR END WE WOULD LIKE TO BUILD 2 CHURCHS.
3.The Prayer Groups.
The believers who accepted our lord should become the prayer full hero's is our one of our aim. The children of God should draw near God. And Grow Themselves In The spiritual life is our lord's will. (Eph4:11,12)for that we are organizing Prayer camps, fasting , night prayer for all nations.
OUR Nation, India is full of idolatry & the people are worshiping about 33 billion gods. The prayer support is not enough & to Holy Spirit should raise the worship warriors. Because , God spoke to us in a specific way that a great revival is coming to India through worship. We have to train people & make them to worship owing this period. We also desire to teach them music also please which will help them to do pray high voltage worship so, please pray for a suitable place . Good music teachers & music instruments are needed.
4.The Children's Ministry(Children's Blessing Festival)
The service among the children also our vision. The lord said "let the children come unto me ,do not defend them. for there is the kingdom of God(mat 19:14)lead the children in the path in which he should walk, so in his old age too he won't leave his right way" we gather the children's in our surrounding villages, teach them the bible stories, songs & love of Jesus. we do pray for them & giving food ,some gifts and make them happy. The children accept Jesus as their saviour.Todays children's are tomorrows believers or servant of God. please do pray for the children grow more in our lord's faith
WE DONE THIS MINISTRY VERY SUCCESSFULLY LAST 3 YEARS & HAVE THE VCD'S OF CHILDREN BLESSING FESTIVAL2006,2007,2008.WOULD YOU LIKE TO WATCH THAT,PLEASE CONTACT US AND WE CAN SEND TO YOU .
5.Helping Widows & handicaped (1Tim5:5-10,Job29:15,16) Jesus Christ says (mat 5:13,luke 6:35,36) "Do good to others ,through the good deeds gain more friends and praise the lord. We do the gospel service & do good helps to the poor people. we like to help poor Christian widows ,aged people & handicapped. we can help provide food ,cloth and medical help for handicapped & sickness people. In our churches , we are having 35 (widows, aged) 2 handicapped. If you wish to help to those people, please correspond to us, we will sent the reports to you. (James 1: 27)
6.Mercy Children's Home & Help to Study Children's (Ps 10:14,68:5, 146:9, mat 25:40,lk 16:9,deut 10:17,18)We wish to help the orphange children. we make them happy by the grace of our lord. We selected (30) poor, poor believers, and destitute children. If it is possible for you to help 3 or 6 children the expenses for one child month 20$.Through your support these children will get good education ,cloth, food & shelter. God has given a part of land for home, if anybody come forward to render their help &service to home needs. Then we are ready to do the gospel service provide helps to studying children to feed them, give note books the most backward we need kind prayer & help in this regard. We need drinking water facilities & rooms for children.
7.OLD AGED HOME:
Honor the father & mother ,I shall give long life (Eph 6:1).Many children have broken this commandment & have abandoned their parents. Because,some children opposite to follow Jesus. The parents & poor believers & others are facing the many problems. The poor & helpless parents are so miserable. We saw countless of such parents. God gave us a burden to start one old aged home ,so that such aged people will have peaceful & prayerful life to prepare for their call from God. (1Tim6: 1)
8.Bible Study In Villages (mat 28:20, 2Chr 17:9)
We like to teach the bible to the believers, most of them are the uneducated people who are coming to our church. They are coming from villages we take daily evening time & planning to conduct the Video bible study, itself lot of people will participate and it will be easy for us to reach the people. For this we need A color T.V. and DVD player and bible stories cassettes to spread this ministry in village level. Please pray for the ministry and extend your help to this ministry.
9.BUILD TO THE CHURCHES IN VILLAGES:
Dear beloved in Christ
Greetings to you in the name of our lord Jesus Christ. I like to share to you burden in God about for India nation. Please spare a few minutes read this letter. In India is also having 7 lakes villages this knowing also to you know our nation population is more than 120 crore.
Bible says ,the people which sat in darkness saw great light and to them which sat in region and shadow of death light is spurring up(Math 4:170 but many more villages not filled lest the light of Glorious gospel of Christ, who is the image of God. We are burdened & plan to reach gospel to these remote villages as early as possible.
In India having more than 120 core peoples, at least 1 church for 1000 people(1/1000) need in 121 lakes churches for India. this not a perfect counting. but India having only 2 lakes churches. We have to build 10 lakes churches in India in the future. How much different is a country?
Please lovingly you will know our country situation. To continually to preach the gospel & to built the churches, we take this burden and worked in our mission. Please keep us in your prayers for our mission.
To buy a place of land & build a church (sit 1000 members) to worship our great God .It will cost more than 2.5 lakes(5500 $) in a village. To fulfill this plan let come forward to help burden of God's families, business believers and missionaries are also welcome. So our India villages people can know the true God and worship. Amen.
SO LITTLE TIME…………………..…SO MUCH TO ACCOMPLISH(NECESSITY)MAKING MOST OF EVERY OPPORTUNITY(Eph 5:16)WE
DO SOMETHING FOR OUR SAVIOR JESUS CHRIST. We do what we can do in our period. So we take decision today for more preaching the gospel in full swing and to build the churches in villages. Please convey this burden to others from your friends, and in your prayers & willing offerings to build more churches In India nation.
INDIA BELONGS TO JESUS CHRIST ONLY. Amen. We see in the Bible that the enemy comes against us uproariously every time people of God, start a construction. But our God fights for us. Pray that God should meet the all needs.
INDIA BELONGS TO JESUS CHRIST ONLY. Amen. We see in the Bible that the enemy comes against us uproariously every time people of God, start a construction. But our God fights for us. Pray that God should meet the all needs.
Beloved many more million peoples shall be unknown to the true God & way of eternity. So we tell the gospel, bringing the fishes of souls in to the boat of the heavenly kingdom. Since this is a noble ministry, will you pray for tears in God's presence & help with your generous offerings & help this ministry? Please you will say "YES " that revival has come to our India and people will know the Living God very soon. Answer shall be in your hands? Please can you pray & give valuable suggestions for our HEART BURDEN. Amen.
10. ENGLISH SCHOOL & MEDICAL CLINIC:
WE ALSO DO THE SOCIAL WORKS IN OUR MINISTRY. WE HAVE THE PLANS TO START THE ENGLISH SCHOOL & MEDICAL CLINIC IN OUR MINISTRY AREAS. IF YOU HAVE THE BURDEN FOR THIS PLEASE CONTACT WITH US, DONATE & SPONSOR TO OUR MINISTRY:
Dear friend s please help to our ministry by the prayer support & also financial support . Here we are suffering a lot without proper financial support to do the lord's ministry among villages the poor & needy. Here now in our country our lord God has opened the door of ministry to do if freely without any hosted. If we receive some funds it would help us to do the lord's ministry more successfully throughout India.
Making the most of opportunity because the days are evil (Eph 5:16 )SOMETHING EVERY BELIEVING CHRISTIAN CAN DO
All God's people who, loves Jesus can be a partner in this unique vision. They can also share this (A.I.V.C.CHURCH) vision with other believers & thus be part of God's compassion & to the neighbors .WE DO INVITE YOU TO BE PARTNERS WITH US. Amen
THE PASTOR'S DETAILS
1.Name :PAS.P.STEPHEN(Founder. & President)
Date of Birth :1.07.1947
Wife Name : Esther
Children : 3 Daughter ( 2 Married )
Ministry :
He is the senior pastor supervisor and starts all churches. Then he goes to new villages to preach the gospel &start more churchs. Pastor STEPHEN have burden to start churches where there is no church. Coming days he go to preach the gospel & conduct the Gospel meetings 2 new villages, 25-30 km far away from Vembakkam village. Please pray for this. We will desire to buy land & to build the churchs.

OUR CANTACT ADDRESS:

Pastor. A. J. Amose Moorthi

69-Church street, Main Road,

Vembakkam & Po, Cheyyar TK ,

S. India –604410

Email mercy_chome@yahoo.com

Phone :+9109383564507

mobile: +9109943094831

Also you can send your help by

"Western Union".

It is easy & safe to receive.

First,

Email mercy_chome@yahoo.com

And,

Inform your full address and,

MTCN# (Control number ).Thanks