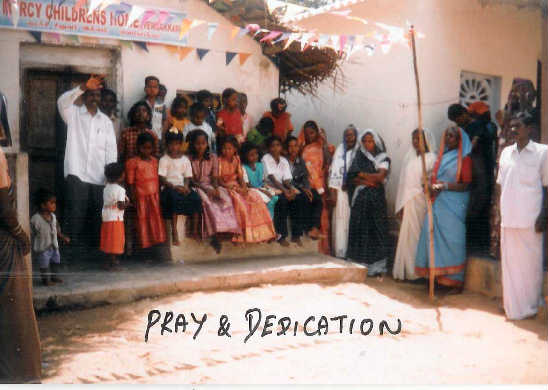 Dedication of the, MERCY CHILDRENS HOME, for Orphans.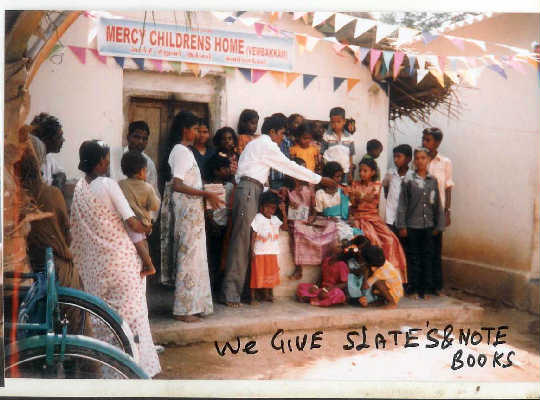 A small Sunday School Class at Wiggins MS sent a few Pencils and Notebooks to give to the Orphans at, MERCY CHILDRENS HOME, for them to have some notebooks and pencils. You can mail the Pencils and Notebooks. This Photo shows that the Orphans got the Notebooks and Pencils. And small Donations can buy a lot of Rice to feed the Children.

| | | |
| --- | --- | --- |
| Even Small Donations will help feed Orphans. | | The Orphans were thankfull for the Gifts. |
GOD GAVE A BIG VISION TO US TO START THE ORPHANAGE. SO, WE STATRED 2006 JUNE 18th "MERCY CHILDRENS HOME" . I SELECTED ONLY ORPHAN CHILDREN,NEEDY,POOR, & POOR BELEIVERS CHILDRENS.THEN WE WISH TO GIVE FREE FOOD,CLOTHS,EDUCATION,ACCOMODATION,TEXT & NOTE BOOKS.WE MAKE THEM HAPPY BY THE GRACE OF LORD JESUS CHRIST.WE HAVE NO OTHER SUPPORT TO THE ORPHANAGE & ALSO OUR MINISTRIES.
OUR "ALL INDIA VILLAGE CHRISTIAN CHURCHES" HAVE BEEN REGISTERED WITH THE GOVERNMENT UNDER CHRISTIAN CHURCHES DOCTRINE. WE ARE DOING MINISTRY IN MANY VILLAGES WITHOUT FINANCIAL SUPPORT. WE ARE RUNNING ALL THE VILLAGE (CHURCHS) IN THE MIDST OF A LOT OF FINANCIAL PROBLEMS. IN THIS SITUATION,PLEASE YOU CAN COME FORWARD TO RENDERTHEIR HELP,SERVICE TO ORPHANAGE & CHILDRENS NEEDS. WE READY TO DO THE ORPHANAGE. CONTINUE PROVIDING NECESSARY BASIC AMENITIES. WE NEED $18 PER MONTH FOR EACH CHILD.WE HAVE TAKE 30 CHILDRENS. KINDLY PRAY FOR THE SAME & HELP. I DESIRE YOUR HELP & SUGGESTIONS TO CARRY OUT ORPHANAGE SUCESSFULLY. ALL YOUR BIG & SMALL MONEY BRING MANY SOULS TO THE KINGDOM OF GOD.AMEN. GOD'S GRACE BE WITH US.(IS 60:220)